WELCOME TO OUR PRECAST CONCRETE WALLS!
We stock a wide variety of Precast Concrete Walls. Please click on our pricelist or the pictures below to learn more.
Precast Concrete Walls, Pretoria. Louver Precast Concrete Walls. Block Brick Precast Concrete Walls. Clinker Precast Concrete Walls.
Check out our 5 star Google reviews
Contact Jaco on 0721886699 or Enquire now by clicking here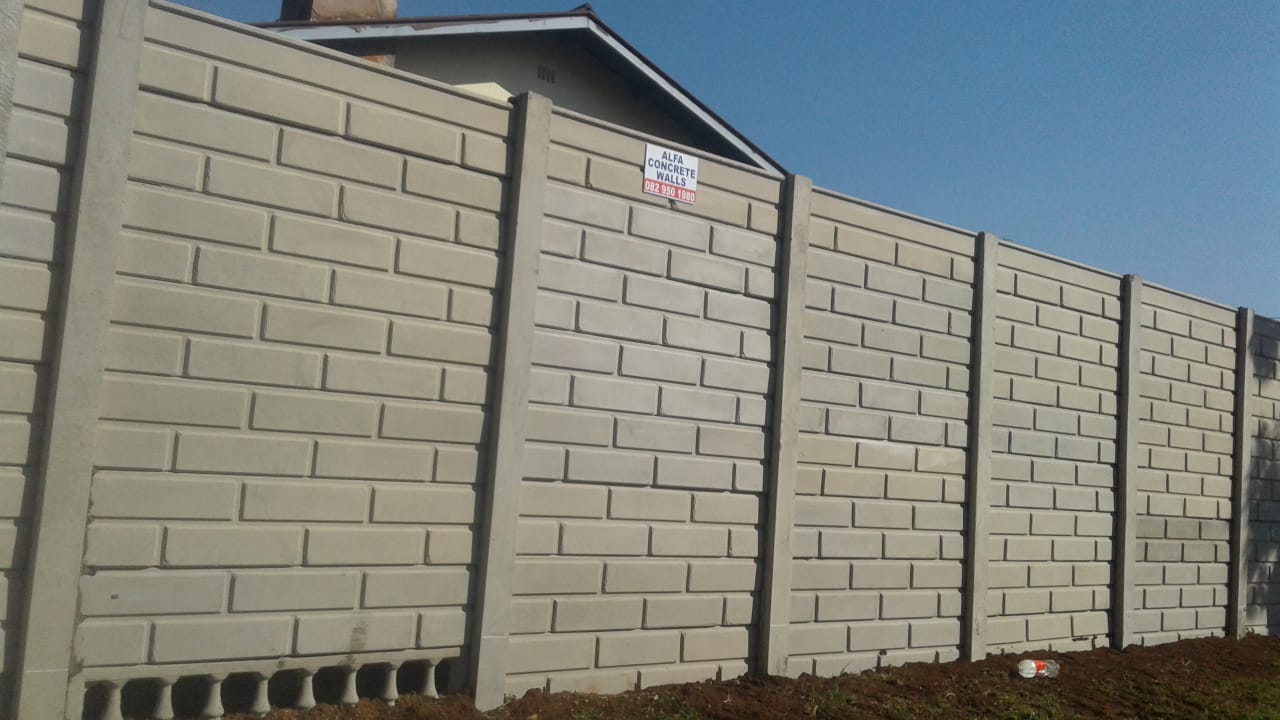 PRECAST CONCRETE WALLS. PRETORIA. PRICES FROM R525 P.M. FOR 1,8M HIGH
Our precast concrete stop nonsense walls with our factory in Pretoria has been tried and tested for the past 45 years. This is the original stop nonsense wall in Petoria that is still the most cost effective and fastest way of adding security and privacy to your Pretoria property. We have different patterns of precast walls available in Pretoria to match your existing precast concrete stop nonsense wall or your specific taste. All our precast concrete walls are reinforced with steel and made with the best materials available in Pretoria.
Our precast walling factory is based in Pretoria east and we install our precast concrete walls in the following areas: Pretoria, Pretoria east, Pretoria north, Pretoria west, Pretoria Centurion, Midrand, Benoni, Springs, Bronkhorstspruit, Cullinan. We also have a factory in Johannesburg so we can help with precast concrete walls anywhere in Gauteng. Advantages of concrete precast stop nonsense walls:
- Tried and tested availability and uniform standard patterns on precast concrete stop nonsense walls.
- Precast concrete stop nonsense is the most cost effective wall in Pretoria.
- Precast walls are very fast and easy to install. You can also D.I.Y. you single sided precast concrete wall in Pretoria.
Precast concrete walls are also known as Vibracrete walls, Prefab walls and Stop nonsense walls.

LOUVER TYPE PRECAST CONCRETE WALL. PRETORIA. PRICES FROM R525 P.M. FOR 1,8M HIGH Our Louver type precast concrete walls in Pretoria is the most common precast vibracrete prefab wall available on the market. Louver type con

BLOCK BRICK PRECAST CONCRETE WALL. PRETORIA. PRICES FROM R510 P.M. FOR 1,8M HIGH Our Block brick precast concrete walls in Pretoria is a very common precast vibracrete prefab wall in Pretoria. Block brick concret

CLINKER PRECAST CONCRETE WALL. PRETORIA. PRICES FROM R710 P.M. FOR 1,8M HIGH Our Clinker precast concrete walls in Pretoria is very common. It is designed for customers looking for a more upmarket product that lo